GCS World Peace Statue Unveiled at Swoyambhu in Kathmandu, Nepal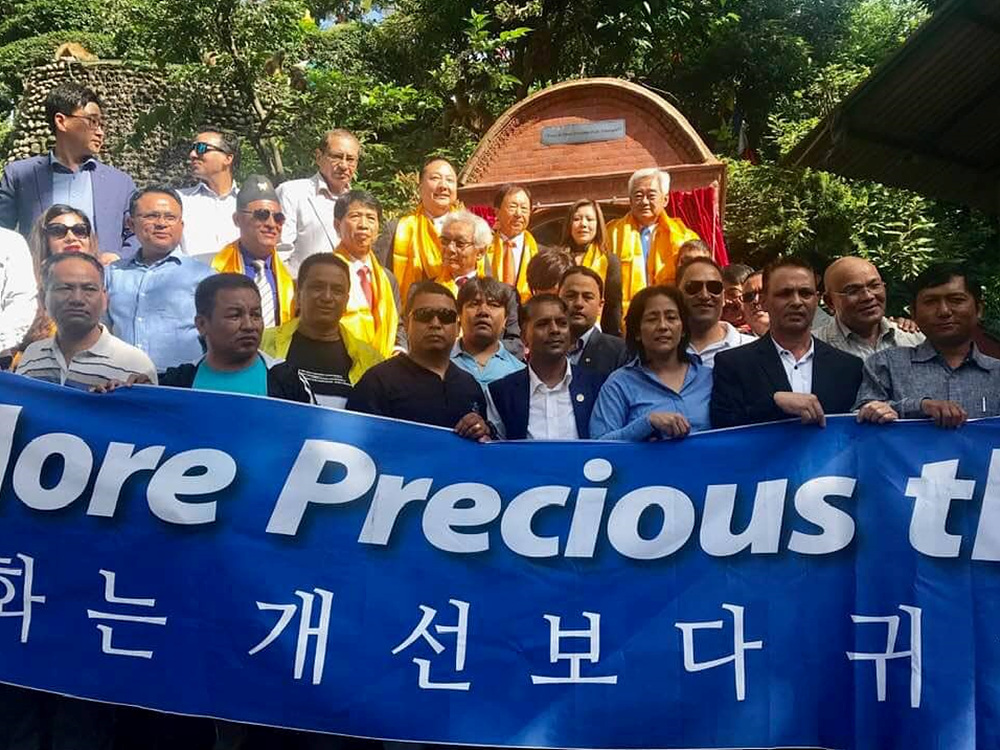 A GCS world peace statue was unveiled in a ceremony at the Swoyambhu, a U.N. World Heritage site, in Kathmandu, Nepal on August 3, 2019.
The world peace statue was dedicated to the founder of GCS International, the late Dr. Young Seek Choue, who proposed the United Nations promulgate the U.N. International Day of Peace in 1981 and the 1986 Year of Peace.
The unveiling ceremony drew such dignitaries as GCS International President Dr. Chungwon Choue, who also serves as president of World Taekwondo; GCS International Secretary General Dr. Seok-jae Kang; GCS International Portland, USA Chapter President Dr. Selma Li; Mr. Prakash Shumsher Rana, president of the Nepal Taekwondo Association, who has been recently approved as co-president of the GCS International Nepal Chapter; Mr. Mahendra Ratna Buddhacharya, secretary general of the Swoyambhu Management and Conservation.
Also on hand at the ceremony were Dr. Nam-chul Cho, vice president of the Asia Development Foundation; Master Rick Shin, secretary general of World Taekwondo Pan America; Grand Master Jay Kyun Shin, who is better known as 'the father of taekwondo in Nepal.
The peace statue text reads: "Peace is More Precious than Triumph. Dr. Young Seek Choue (November22, 1921 – February 18, 2012) was an educator, philanthropist and initiator of world peace. He was the one who encouraged the United Nations to promulgate the U.N. International Day of Peace in 1981 and the 1986 Year of Peace.
"During the massive earthquake in April 2015 in Nepal, the World Taekwondo (WT) carried out an earthquake relief project in Nepal. That project acted as a pilot program for the Taekwondo Humanitarian Foundation (THF), which was established in April 2016. Such initiatives and movements are closely following the spirit and philosophy of Dr. Young Seek Choue's GCS Movement.
"This Peace Statue commemorates and shares Dr. Choue's vision, activities, philosophy and enduring dedication to world Peace."
The GCS world peace statue is the second of its kind to be installed outside Korea after the first one at a hotel in Sofia, Bulgaria in 2017.
GCS International plans to install as many GCS world peace statue around the world by 2021, which marks the 100th anniversary of the birth of GCS International Founder the late Dr. Young Seek Choue.