2020 GCS International Board of Directors Meeting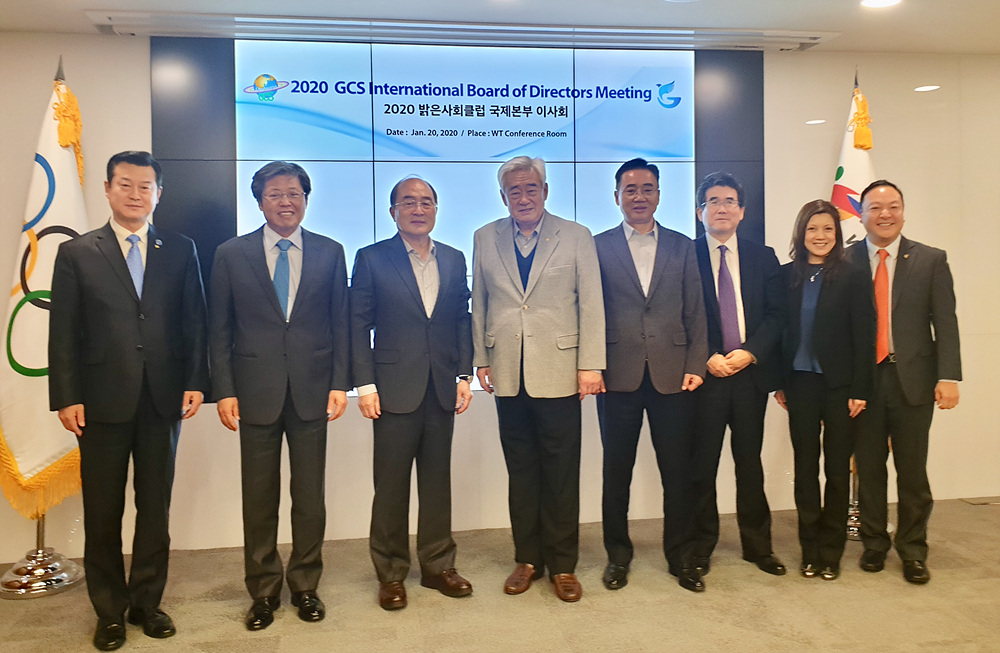 The 2020 GCS International Board of Directors Meeting was held at the conference room of the World Taekwondo headquarters in Seoul, Korea on January 20, 2020.
At the board meeting, the board members unanimously approved the 2019 income-expenditure report and the 2020 budget and business plans.
The board approved the appointment of six persons as new board members of GCS International. They are Prof. Chang Sung-Goo, M.D. Ph.D., president of the Korean Academy of Medical Sciences; Mr. Lee Jae-Heung, Dr. Ahn Young-Soo, president of the International Graduate School of English; Prof. Kim Do-Kyun of Kyung Hee University, Mr. Lee Kwang-Kyun, an adjunct professor of Kyung Hee University; and Mr. Jeong Hak-Koo, president of the Gyeongju Newspapers.
Four board members tendered their letters of resignation as board members. They are Mr. Shim Ho-Myung, former president of the GCS Korea Chapter; Mrs. Kim Jong-Wol; Mr. Lee Hyu-Won, chairman of Hyundai BS&C; and Dr. Jang Yong-Sung, chairman of the Korea Financial Investors Protection Foundation and a professor of Hanyang University. The board approved Mr. Lee Hyu-Won and Dr. Jang Yong-Sung as advisors of GCS International President Chungwon Choue.
The participants also approved the appointment of Prof. Suh Joo-Hwan of Kyung Hee University as a new auditor for a two-year term, replacing Mr. Chung Seok-Jin.
The board gave the green light to the 2020 GCS International Annual Convention and related events on November 13, 2020 at Chiang Mai, Thailand.
Among other major GCS International events for 2020 are the inauguration of the GCS Sri Lanka Chapter in Colombo, Sri Lanka on January 25; the 2020 Indo Korean Taekwondo Cultural Festival in Kolkata, India on February 2-6; the joint inauguration of several GCS national chapters in the Pan American region in San Jose, Costa Rica on March 10-12; the 2020 DMZ Peace Festival in Paju, Korea on June 13; the 2020 GCS International Peace Conference at Chosun University in Gwangju, Korea on July 16.
The Seoul-based GCS International plans to deliver development funds this year to several developing countries such as Sri Lanka, Mongolia and Indonesia, while organizing walkathons and other fund-raising events in and outside Korea.
"With the full support of board members, GCS International really made much progress in 2019 with various activities, including the 2019 GCS International Convention at Chosun University in Gwnagju, Korea, which drew about 2,300 people from about 20 countries to mark the 40th anniversary of the founding of GCS International," said GCS International President Choue at the board meeting.
Dr. Choue said, "In 2020, GCS International will go all out to expand and reactivate our GCS national chapters and clubs around the world."