GCS Nepal to Host 1st Mt. Everest GCS International Open Taekwondo Event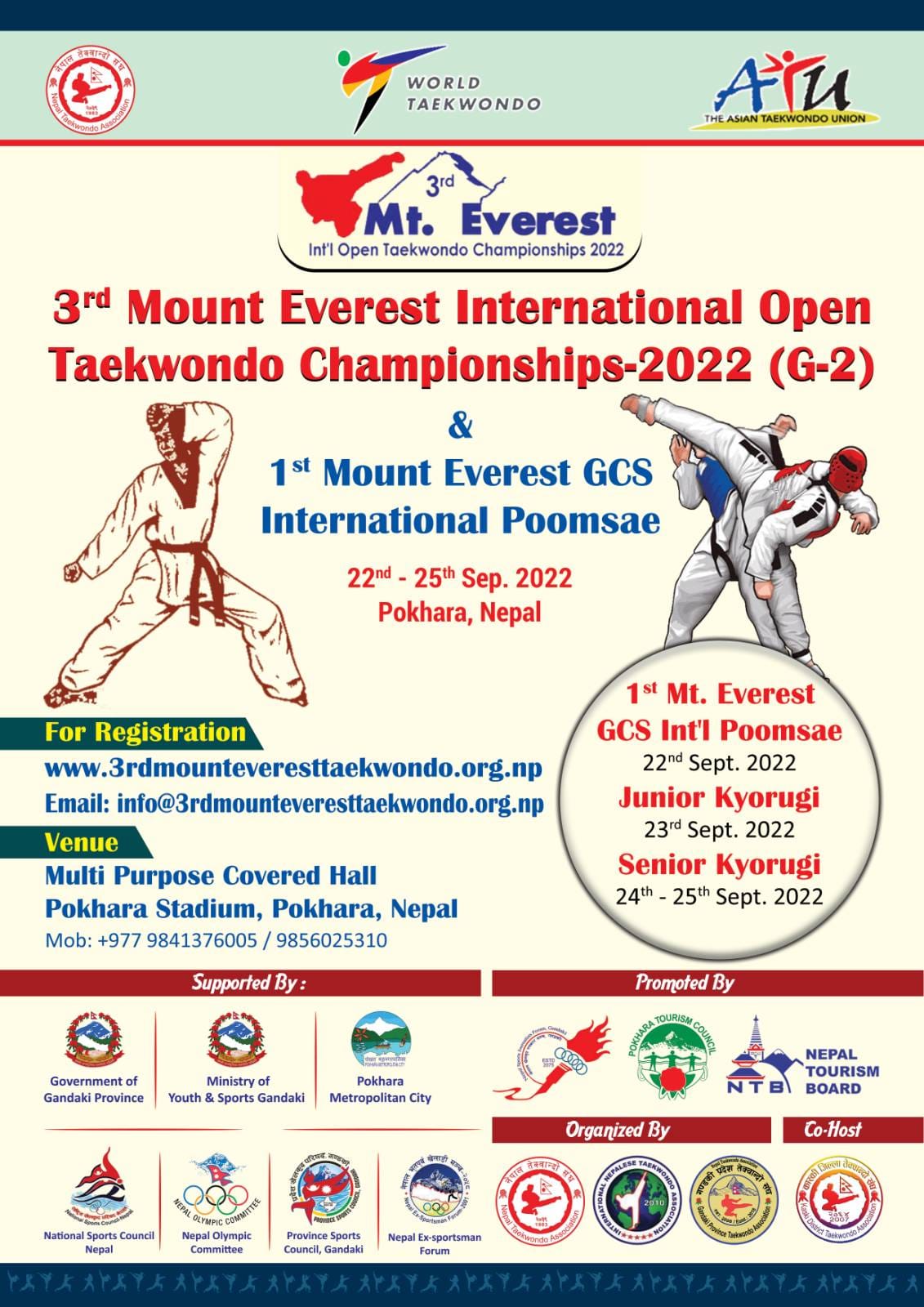 The GCS International Nepal Chapter will cooperate with the Nepal Taekwondo Association to jointly host the 1st Mt. Everest GCS International Open Taekwondo Poomsae Championships on September 22, 2022 in Pokhara, Nepal.
The one-day event, which will be organized by the Gandaki Province Taekwondo Association, will take place at the Multi-Purpose Covered Hall of Pokhara Stadium in Pokhara, Nepal.
The inaugural GCS International open taekwondo poomsae competition, which features individual, pair and team events, will be held one day before the 3rd Mt. Everest International Open Taekwondo Championship (G2) for junior and senior kyorugi contestants at the same venue.
During the past two years of the COVID-19 period, several GCS national chapters, including Denmark, Portland, USA, Sri Lanka, Hong Kong, etc., organized online taekwondo poomsae events. The Pokhara taekwondo poomsae event will mark the first in-person taekwondo competition promoted by a GCS national chapter.
The WT Poomsae Competition Rules shall be applied to the Pokhara event. Poomsae contestant may compete more than one category of competition unless he or she is limited by the gender or age.
All the participating officials and athletes should have COVID-19 full-vaccinated cards. If not fully vaccinated, all the participants should have negative-tested PCR report.
Registration form should be submitted to the organizing committee before September 15. The poomsae registration fee for an individual is 30 U.S. dollars, $50 for a pair and $70 for one team.
"We are happy to organize the 1st Mt. Everest GCS International Open Taekwondo Poomsae Championships in Pokhara, Nepal. We hope many athletes from GCS member countries will participate in the one-day event to share and promote the GCS movement," said Mr. Prakash Shumsher Rana, co-president of the GCS Nepal Chapter and the Nepal Taekwondo Association.