2019 DMZ Peace Festival to be Held on June 29 in Paju, Korea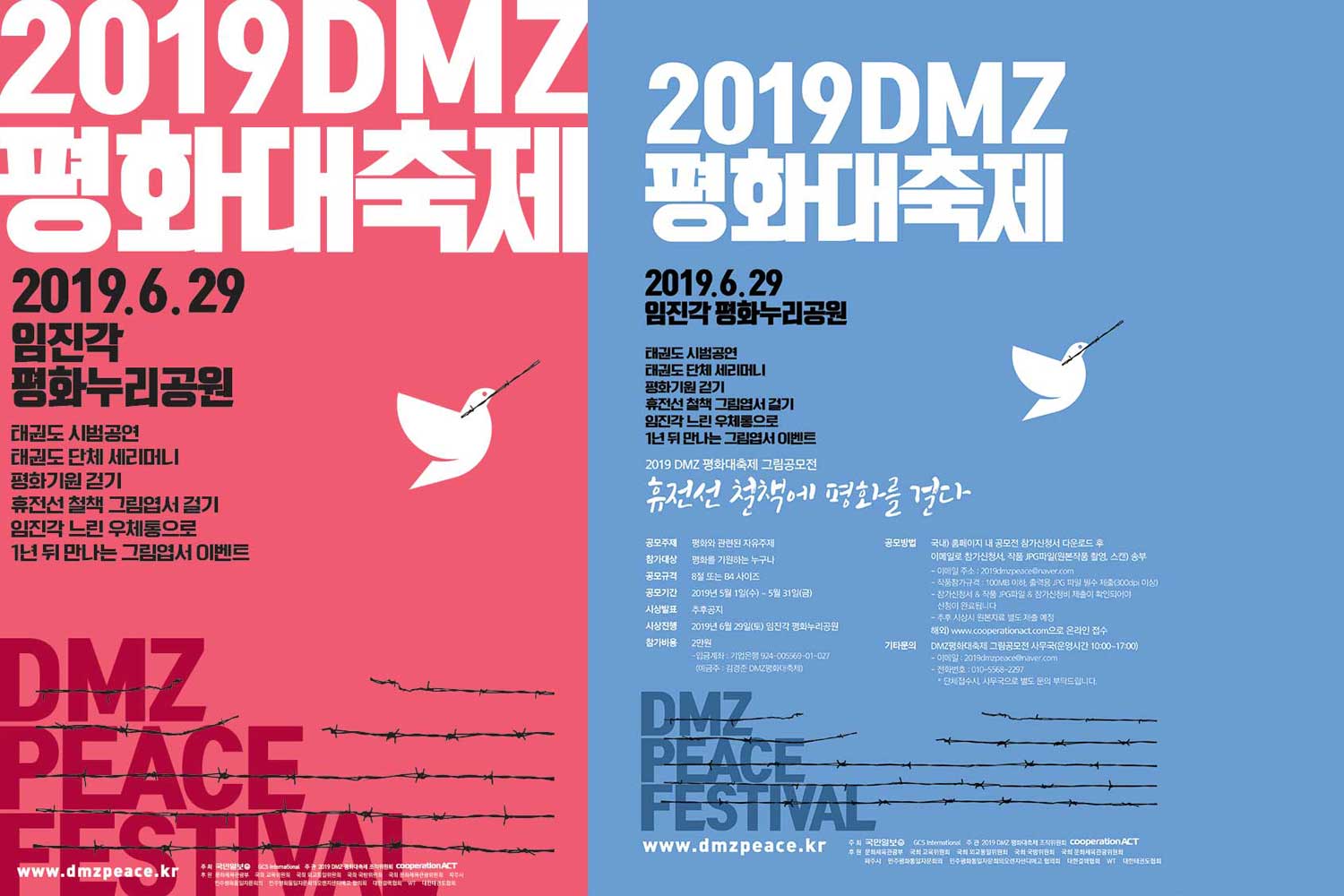 The 2019 DMZ Peace Festival will be held on June 29, 2019 in Paju, Korea.
The DMZ Peace Festival is jointly promoted by GCS International, headed by Dr. Chungwon Choue, who also serves as president of World Taekwondo, and the Kukmin Daily, one of Korea's influential nationwide newspapers. The inaugural event is organized by the DMZ Peace Festival Organizing Committee and Co. Act, a non-profit organization initially run by high school and college students in the United States.
Under the theme "Hand in Hand for Peace," the one-day event is aimed to help support North Korean children suffering from tuberculosis and free taekwondo education for children in developing countries.
The festival will be composed of two parts: an official opening ceremony and various taekwondo performances at the Imjingak Peace (Pyeonghwa) Nuri Park in Paju, and an art exhibition along the electric fences of the demilitarized zone (DMZ) near the Peace Nuri Park. It takes about one hour by car to get to the Paju Peace Nuri Park from Seoul.
For taekwondo performances, the organizers plan a joint taekwondo demonstration by the Seoul-based World Taekwondo and the North Korea-based International Taekwondo Federation (ITF). The organizers are waiting for the ITF response. World Taekwondo is one of the event supporters.
For the art exhibition of the 2019 DMZ Peace Festival, Co. Act is receiving art pieces, drawings and/or paintings, in a digital art file for participants outside of Korea. If you are interested in the art exhibition, you can visit www.cooperationact.com.  The topic of the art exhibition is world peace. You can label your digital art file with your name and the title of the piece and your digital art file must have a resolution of at least 300 dpi, but no more than 400 dpi. The organizers will print your photo on a paper about 257mm by 364mm. Your artwork will be reviewed to ensure that it complies with guideline and exhibition theme of an event for which it will be displayed, exhibited, and/or showcased.
For those who are in Korea and interested in the art exhibition, you can visit the event website of www.dmzpeace.kr. The entrance fee is 20,000 Korean won.
The deadline for submission of artworks is May 31, 2019 and the entrance fee for the art exhibition through Co. Act is U.S.$20 per artwork. The $20 entrance fee for those in developing countries will be waived.
The participation fee for those who want to attend the official opening ceremony and taekwondo performances is 10,000 Korean won.
"This year marks the 40th anniversary of the founding of GCS International. We are pleased to work with the Kukmin Daily for the 2019 DMZ Peace Festival through which we want to show the world that taekwondo is a peace-loving Olympic sport," said GCS International President Chungwon Choue. "Proceeds from the event will be used to help support North Korean children suffering from tuberculosis and free taekwondo education for children in developing countries."