GCS International Signs MOU with World Hangung Association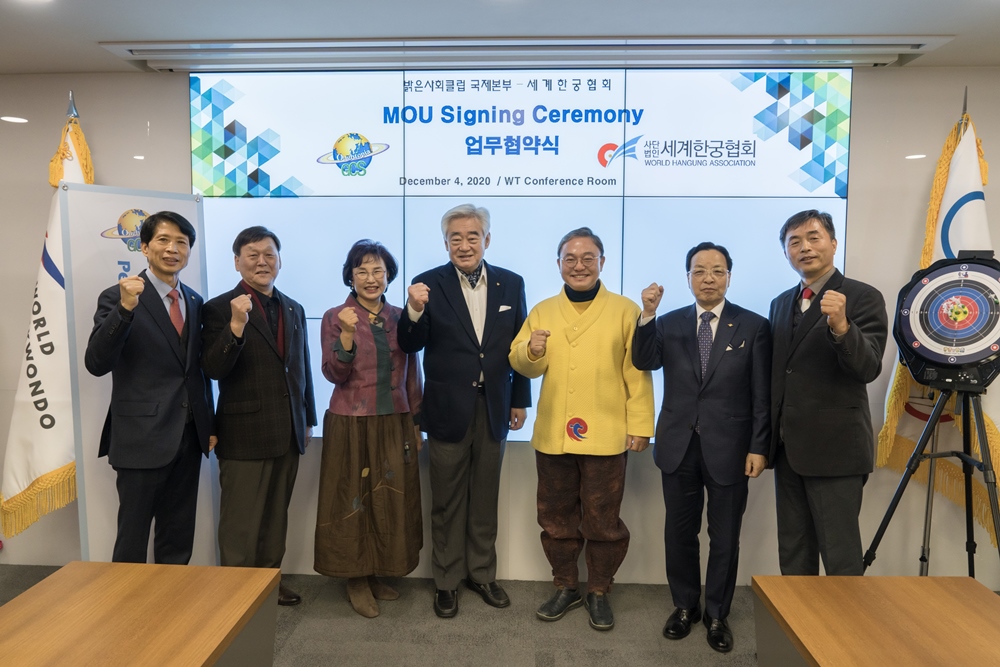 GCS International and the World Hangung Association signed a memorandum of understanding in a ceremony on December 4, 2020 to help support refugees and the powerless in developing countries.
Under the agreement, the two organizations agreed to cooperate to promote the GCS Movement and the Hanggung 'Change' or Hangung Family HELPs Movement.
The MOU, which was signed at the World Taekwondo headquarters in Seoul, Korea, was inked by GCS International President Chungwon Choue and World Hangung Association President Hu Kwnag.
Among the attendees at the ceremony were Dr. Huh Jong, president of the GCS Korea Chapter; Dr. Seok-jae Kang, secretary general of GCS International; Mr. Lee Won-jong, secretary general of GCS Korea Chapter; Mr. Heo Do-won, director of the World Hangung Association; Mrs. Lee Ok-hee, president of 3IP Hangung Co. Ltd,; and Mr. Jang Dong-seung, standing vice president of the Korea Hangung Association.
Under the MOU, the two organizations agreed to further globalize Hangung, which was invented by Korean Hu Kwang in 2006. Hangung is a sport for all combined the western dart game with the traditional Korean archery and 'Tuho' or throwing sticks from a set distance into a canister, plus an electronic score board.
The two sides also agreed to cooperate to organize local and international Hangung events, with the proceeds going to help support the disadvantaged children, such as refugees, street children and etc.
With the agreement, the World Hangung Association, set up in 2014 with its head office in Cheongyang, South Chungcheong Province, agreed to donate Hangung sets for refugee children at the Azraq Syrian Refugee Camp in Jordan, and WT Cares countries such as Cambodia, Sri Lanka and Nepal.
"GCS International and the World Hangung Association have much in common in their philosophy and ideals. I think Hangung is a good sport for all for all ages to improve concentration and mental training," said GCS International President Dr. Choue.
Dr. Choue, who also serves as president of World Taekwondo, said, "I trust Hangung will play a key role in the promotion of the GCS Movement together with taekwondo, starting with the dissemination of Hangung to refugee camps and WT Taekwondo Cares-program countries."
Dr. Choue officially announced GCS International's signing of an MOU with the World Hangung Association and donation of Hangung sets for refugee children during the 2020 GCS International Virtual Convention, which took place two hours later at the same place, with the attendance of representatives from about 50 countries.
GCS International, a U.N.-affiliated, Seoul-based NGO, was established in 1970 by Dr. Young Seek Choue, the late father of Dr. Chungwon Choue. GCS International played a crucial role in establishing the U.N. International Day of Peace in 1981.
"The World Hangung Association will produce a greater value by joining GCS International, which pursues the realization of a brighter society, a healthy society, the preservation of the nature, the restoration of humanity, and the promotion of world peace," said World Hangung Association President Hu Kwang.
The World Hangung Association joined the TAFISA or the Association for International Sport for All in 2015