1st GCS Virtual Workshop Wraps Up to Great Success on July 17, 2020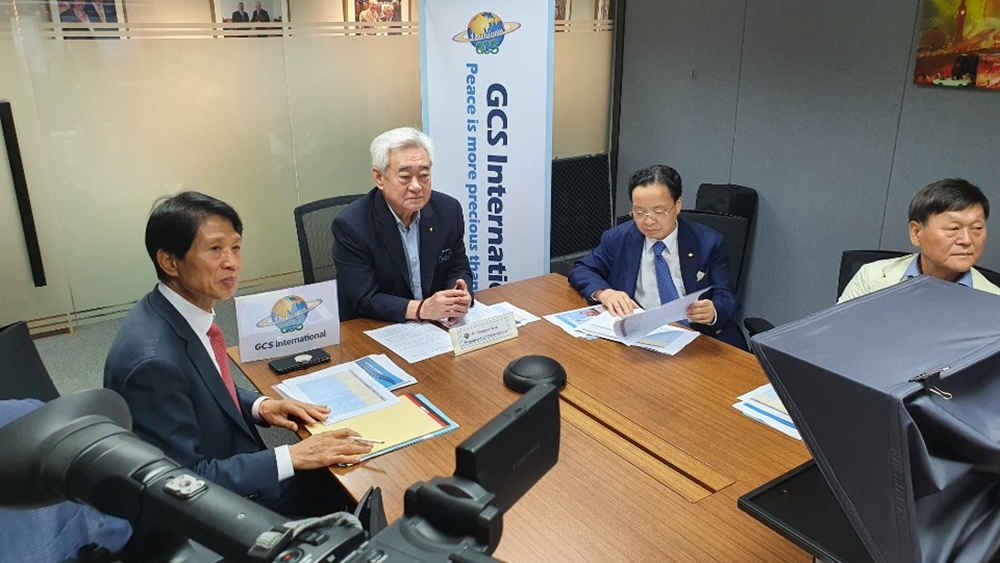 The 1st GCS Virtual Workshop was held to a resounding success on July 17, 2020, drawing about 60 ranking GCS chapter members from 35 countries around the world.
The first-ever online GCS Workshop was hosted by GCS President Dr. Chungwon Choue, who also serves as president of World Taekwondo and the Taekwondo Humanitarian Foundation. Dr. Choue has worked as president of the Seoul-headquartered GCS International since 2006. GCS International has a global membership of 44 countries. GCS stands for goodwill, cooperation and service, with its ultimate goal of achieving a global common society.
Among the 35 participating countries were five African countries – Cameroon, Malawi, Tunisia, Rwanda and Libya – and three European countries – Belgium, Denmark and the United Kingdom – and one Oceania country of Australia.
A total of 14 Asian countries attended the workshop: Bangladesh, Cambodia, India, Japan, Jordan, Korea, Malaysia, Mongolia, Nepal, Singapore, Sri Lanka, Syria, Thailand and Uzbekistan, while 12 Pan American countries – Argentina, Aruba, Chile, Colombia, Costa Rica, Curacao, Guatemala, Haiti, Mexico, Puerto Rico, Venezuela and the United States – participated in the workshop. Some GCS chapters, including Bhutan, failed to attend the workshop, mainly because of their internet-related technical matters.
The GCS Virtual Workshop, which started at 11 a.m. Korean time, lasted about 2 hours in a very amicable and productive manner.
"The continued, unprecedented and challenging COVID-19 situation gives mankind wisdom to change crisis into opportunity. In this regard, I am pleased to welcome you all to the first-ever GCS Virtual Workshop. Through this workshop, we can share our activities and ideas on how to shape the post-COVID world with our GCS values – goodwill, cooperation and service," said GCS President Dr. Choue in his welcome message.
Dr. Choue said in his welcome message, "I wish to take this opportunity to thank Dr. Selma Li, president of the GCS Portland, USA Chapter for helping organize these Zoom events."
"My special thanks go to Mr. Ji-ho Choi, WT vice president and president of WT Pan America for attending this workshop in his capacity as my GCS special advisor for the Pan American region. My appreciation also goes to new GCS faces – India's Mr. Namdev Shirgaonker, Denmark's Edina and Lisa Lents sisters, Singapore's Milan Kwee, Australia's Magableh Maher, Mr. In-seon Kim of Texas, the United States, Mongolia's Erdenebaatar Naranchimeg, and Mexico's Juan Manuel Lopez," he said.
Each participant had time to introduce him or herself, followed by a presentation on the "WT Cares Achievement Program" and the "Annual World Virtual Taekwondo Festival" by Dr. Selma Li of the GCS Portland, USA.
De. Selma Li said the inaugural GCS World Virtual Taekwondo Festival would take place on Oct. 10-11 and Oct. 17-18, 2020, together with GCS International.
With the support of GCS Portland, GCS International had the historic COVID-19 GCS Virtual International Taekwondo Championships on June 4-7, with the attendance of some 20 GCS national chapters. On May 22, GCS International had a virtual meeting with GCS leaders in the Pan American region.
A total of 9 GCS chapters made presentations on their respective GCS chapter activities at the workshop. They were, in the order of presentation, Colombia, Nepal, Guatemala, Denmark, Portland, USA, Sri Lanka, Thailand, Haiti and Costa Rica.
Ms. Edina Lents of GCS Denmark, who recently became a new president of the Danish Taekwondo Federation, said her federation had set up a "Humanitarian Committee," the first ever among World Taekwondo member national associations.
Ms. Lisa Lents, who serves as the chairwoman of the Danish Taekwondo Federation's Humanitarian Committee and a board member of the Danish Taekwondo Federation, said "In cooperation with GCS International and WT Europe, we are holding the Lents Taekwondo Worldwide Sports Online Open 2020 – Sept. 5-6 for para poomsae & 1st online beach poomsae competition, Sept. 12-13 and 19-20 for poomsae, and Sept. 26-27 for freestyle poomsae competition. "Proceeds from the online events will be used to support WT Cares Cambodia projects."
GCS Thailand made a progress report on the upcoming GCS International Convention set for November 13, 2020 in Chiang Mai, Thailand, while GCS Sri Lanka reported that it will hold the 1st Virtual Taekwondo National Championships on Aug. 1-3 and Aug. 7-11 together with the Sri Lanka Taekwondo Federation.
GCS Portland proposed a regular online GCS education for GCS members worldwide. As early as in October this year, the first GCS Virtual Education will begin.
GCS International had a series of activities as scheduled so far this year. In January, we inaugurated the GCS Sri Lanka Chapter in Colombo. In February we went to Kolkata, India for the 2020 Indo-Korean Taekwondo Cultural Festival. In March, we successfully inaugurated five Pan American GCS chapters in a joint ceremony in San Jose, Costa Rica.
On August 29, GCS International plans to hold the 2020 DMZ (Demilitarized Zone) Peace Festival in Paju, Korea, together with the Kukmin Daily, one of Korea's most influential nationwide newspapers.
GCS President Dr. Choue said, "I think taekwondo can be an effective tool to help promote the GCS Movement in these COVID-19 times. In these COVID times, we connect more online and stay safe and healthy."
In 2016, GCS International signed an MOU with World Taekwondo and the Taekwondo Humanitarian Foundation to help empower the powerless in the less developing countries. Through these different channels, we can help contribute to the promotion of world peace.
GCS International plans to join the International Fair Play Committee (CIFP) as a full member. World Taekwondo and the Korean Fair Play Committee are full members of the CIFP.